Enthusiastic industry response to capture new opportunities following border reopening
HONG KONG, Jan 13, 2023 – (ACN Newswire) – The latest trade fairs organised by the Hong Kong Trade Development Council (HKTDC) recorded encouraging traffic and exhibitor participation, with many buyers placing orders at the fairground. The recent reopening of the Hong Kong-Mainland China border and resumption of international travel has helped drive the industry's enthusiastic response, allowing buyers and exhibitors to seize opportunities.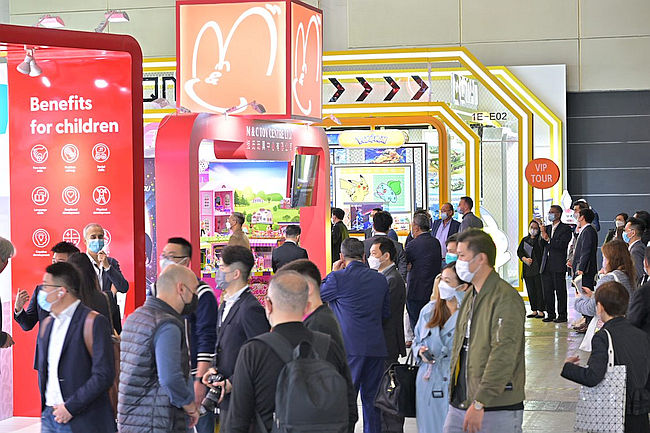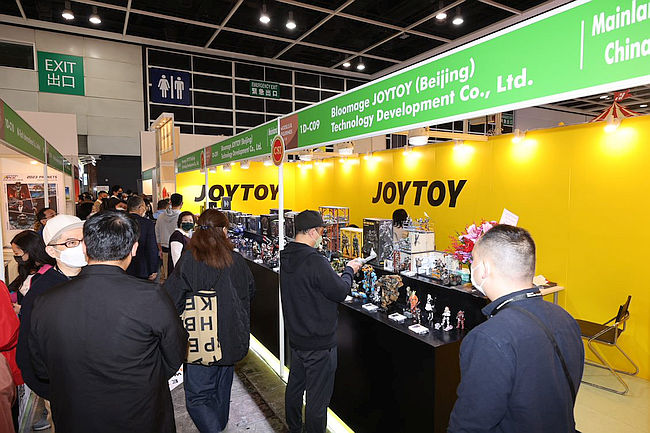 Across four days, the 49th HKTDC Hong Kong Toys & Games Fair, 14th HKTDC Hong Kong Baby Products Fair and the 21st Hong Kong International Stationery & School Supplies Fair welcomed over 21,000 buyers from some 100 countries and regions who participated physically and online. More than 12,200 buyers attended the three fairs in-person.
Non-local buyers travelled from near and far to join the physical fairs, including Mainland China, ASEAN, India, Japan, Korea and Taiwan. European buyers came from, amongst others, the Czech Republic, France, Hungary, Italy, Poland and the United Kingdom, while buyers from the Middle East and Brazil, Chile and the United States took part as well.
While the physical part of the three fairs came to a close today, exhibitors and buyers can continue to connect online until 19 January. The first three trade fairs of the year adopted the HKTDC's new EXHIBITION+ model, which includes not only the physical shows, but also virtual access facilitated by its smart business matching platform Click2Match, connecting exhibitors and buyers online. As of today, the HKTDC has arranged over 1,000 business meeting sessions.
HKTDC Deputy Executive Director Ms Sophia Chong said: "The HKTDC has promoted the fairs in the past few months, and actively invited quality exhibitors and buyers from around the world to participate in-person. Following the resumption of quarantine-free travel between the mainland and Hong Kong, we are happy to see buyers from Mainland China, ASEAN and the wider Asia region, Europe and the Americas travel to Hong Kong for the fairs. Business travel in Hong Kong is gradually returning to normal, with industry being more optimistic about the future. This is welcome news for our upcoming fairs."
Creating more global business opportunities with the border re-opening
This year's fairs featured an assortment of new products from more than 1,000 exhibitors. A long-term supporter of the Hong Kong Toys & Games Fair, Eastcolight (Hong Kong) Limited, introduced their AR educational toys at the event. Co-founder Ms Salley Sze said: "It is exciting to see that global buyers are back in Hong Kong this year. We have met with overseas buyers from Brazil, France, Israel, Italy, Russia and Turkey who are very interested in our products. We are confident in the fair's business results."
Xiamen Baby Pretty Products Co., Ltd has been participating in the Hong Kong Baby Products Fair since 2009, which has helped expand their export business over the years. CEO Mr Sam Yang appreciated the quality of buyers this year and revealed that his company has met with 80 to 90 new buyers from Southeast Asia and Turkey. While their existing customers have confirmed US$2 million worth of orders, they have also received on-site orders worth US$200,000-300,000 from four new buyers.
Ms Malwina Jaworska, Acting Director of Product Development Department of 4Kraft Sp. z o.o., a baby products company in Poland, said: "Through the HKTDC's Click2Match smart business matching platform, we have found a new supplier from Hong Kong who can provide quality strollers with nice designs. We plan to buy US$850,000 worth of strollers from them. We have also reserved a budget of US$7 million for buying baby beds and high chairs at the fair."
Sales manager Mr Scott Wen of Mirage International Industries, a US exhibitor at the Stationery & School Supplies Fair is satisfied with the fair results. "It's clear that industry players are eager to get back to in-person business. We have had inquiries from Korea, Japan, the Netherlands, the USA, the Philippines, France, Germany, Hong Kong, and even the Middle East and India".
Scientific educational, kidult and green toys lead the future of play
At the flagship Hong Kong Toy Industry Conference 2023 on 10 January, key toy industry trends were unveiled by speaker Mr Clifton Chiu, Research Analyst of Toys and Games of Euromonitor International.
He noted that the rise of scientific educational and kidult toys and the impact of sustainability will be in the spotlight. Mr Chiu added that scientific educational toys were a perfect product for families looking to mix education and entertainment for their children during the pandemic with limited outdoor activities and schooling. Also, kidults, mainly young professionals, are willing to spend their disposable income on collectible toys and blind boxes that let them relive their childhood.
Another key trend is sustainability, many big players have adapted manufacturing and packaging methods in accordance with the sustainability concerns of consumers. The Toys & Games Fair has various themed zones, such as Smart-Tech Toys and Kidult World, together with a special Green Toys label introduced this year, to help buyers identify and source the popular product categories in the industry. For more comments from exhibitors and buyers, please visit the following websites:
HKTDC Hong Kong Toys & Games Fair: https://www.hktdc.com/event/hktoyfair/en/success-stories
HKTDC Hong Kong Baby Products Fair: https://www.hktdc.com/event/hkbabyfair/en/success-stories
Hong Kong International Stationery & School Supplies Fair: https://www.hktdc.com/event/hkstationeryfair/en/success-stories
Fair Websites
– HKTDC Hong Kong Toys & Games Fair: http://hktoyfair.hktdc.com/
– HKTDC Hong Kong Baby Products Fair: http://hkbabyfair.hktdc.com/
– Hong Kong International Stationery & School Supplies Fair: http://hkstationeryfair.com/
– Photo download: https://bit.ly/3GUCRtx
About HKTDC
The Hong Kong Trade Development Council (HKTDC) is a statutory body established in 1966 to promote, assist and develop Hong Kong's trade. With 50 offices globally, including 13 in Mainland China, the HKTDC promotes Hong Kong as a two-way global investment and business hub. The HKTDC organises international exhibitions, conferences and business missions to create business opportunities for companies, particularly small and medium-sized enterprises (SMEs), in the mainland and international markets. The HKTDC also provides up-to-date market insights and product information via research reports and digital news channels. For more information, please visit: www.hktdc.com/aboutus. Follow us on Twitter @hktdc and LinkedIn.
Media enquiries
HKTDC Communications & Public Affairs Department:
Clayton Lauw, Tel: +852 2584 4472, Email: clayton.y.lauw@hktdc.org
Kate Chan, Tel: +852 2584 4239, Email: kate.hy.chan@hktdc.org
Agnes Wat, Tel: +852 2584 4554, Email: agnes.ky.wat@hktdc.org